Gettin' Back to Happy
By Valerie Albarda
Review Copy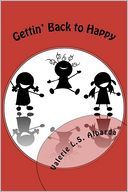 Getting' Back to Happy by Valerie Albarda is a 365 day signet of "Happiness is…" These daily reminders on how to be happy and reasons to be happy, remind us that family, pets, food, friends, work, travel and life in general all have a part of our happiness. Happiness happens to those who look for something to be happy about.
In the year we learn about the writer as well as her reasoning to be happy that day. For example, in the dark and dreary winter months, she found happiness when her coat and her dog's coat matched. We learn about her husband, the Flying Dutchmen, and can celebrate with her when he comes home from business trips and share the mixed emotions of seeing him go off. We see the struggles that the author deals with and how thinking positive at least once a day, can help you get through.
I really liked this book. I was able to get lost in the story that seems to develop from the diary excerpts and the daily "Happiness is" statements. I found myself laughing with the author when she describes something funny that has happened (like "Happiness is being told that you look like a million bucks when you feel like a buck fifty"), and I was sad when the author shared her story of a friendship that ended. The author shares her faith in God along the way, sharing that spiritual side of her, in a very proper manner.
This book would make a great present for someone who is lost in a depression, is ill, in hospital or just needs to find something to make them smile. It would be a great book to read while traveling, waiting in a waiting room, sipping a fine cup of coffee… as you can pick it up and put it down without losing the meaning of the author's story. There is something for everyone in this book.
4 stars out of 5!